2014 AFC Challenge Cup Qualifying Update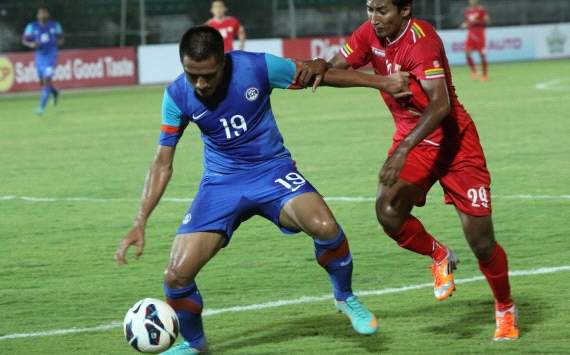 It's been 10 days since the last Challenge Cup games, so a quick refresh of previous events is definitely in order here.  Let's take a look at the three groups that have completed their matches and see how the We Global preview and predictions held up.
Group A
| | | |
| --- | --- | --- |
| Team | Points | GD |
| Myanmar | 7 | +6 |
| India | 6 | +4 |
| Guam | 3 | -6 |
| Chinese Taipei | 1 | -4 |
Going into the final match day, Guam were eliminated and India were atop the table with 6 points.  Hosts Myanmar squared off against India in what was essentially an elimination match.  The winner would qualify for Maldives, with the loser having the possibility of dropping all the way to third.  Myanmar held serve and defeated India 1-0, leapfrogging the Blue Tigers to claim a spot in the Challenge Cup finals.
Guam salvaged their campaign by surprisingly defeating Chinese Taipei 3-0.  Guam had been outscored 9-0 in their previous two games.  The win was enough to see them claim third place in group.  We Global did not see this result coming.  Kudos to Guam for leaving the tournament with a reason for celebration.
While the point totals may differ, We Global nailed this group.  We successfully predicted that Myanmar would top the table and India would be left to wait all month see how the second place table shapes up.  The only thing that threw us off was the Myanmar draw with Chinese Taipei.  They were given the chance to save face against India and did not make the same mistake twice.
Group C
| | | |
| --- | --- | --- |
| Team | Points | GD |
| Afghanistan | 7 | +2 |
| Laos | 5 | +2 |
| Sri Lanka | 3 | +0 |
| Mongolia | 1 | -4 |
Much like group A, headed to matchday 3, group C had 1 team eliminated in Sri Lanka, and had one elimination game between Laos and Afghanistan.  We Global had tabbed Laos v Afghanistan as the deciding matchup and we did not miss there.  What we did miss was the resolve of the Afghanistan side.  Down a goal AND a man to host nation Laos in the decisive game, 10 man Afghanistan was able to find an equalizer and claim a draw.
We had predicted that Laos would win that matchup and advance to Maldives.  However, sports can be a real tricky business as no result in guaranteed.  A draw to unheralded Mongolia ultimately did this team in.  Had they won, a draw v Afghanistan would have seen them top the group on goal differential.  Instead, the found themselves with 5 points and eliminated from Maldives 2014, unable to pass India and surprise package Bangladesh, who both finished on 6 points.
In the other match, Sri Lanka was able to claim 3 points against Mongolia.  It was their first win since a 3-0 win over Bhutan in December of 2011.  This result makes the Laos draw with Mongolia even more surprising.
We Global had the winner of Group C obviously advancing and the second place team missing out on the finals.  While this is still the case, we just had the teams reversed!
Group D
| | | |
| --- | --- | --- |
| Team | Points | GD |
| Palestine | 7 | +10 |
| Bangladesh | 6 | +5 |
| Nepal | 4 | +4 |
| Northern Mariana Islands | 0 | -19 |
This group turned out to be the most surprising, according to the We Global preview.  Matchday 3 turned out to be to almost a formality after what happened on matchday 2.  We had selected as Nepal v Palestine as the marquis fixture here.  It's safe to say that this was a miss.  The match between Nepal and Bangladesh turned out to be the key fixture here.  We severely underestimated the Bangladesh team before the tournament started despite our Sparklines showing Bangladesh above Nepal.  Lesson learned.
With Bangladesh claiming a 2-0 win over hosts Nepal in matchday 2, they virtually had 6 points guaranteed as they were slated to face Northern Mariana Islands in matchday 3.  Much to the displeasure of India and Nepal, they cruised to a 4-0 win, eliminated Nepal, and topped India in the second place table on goal differential.  They are now in the driver's seat to Maldives as seeing 2 teams finish with 6+ points and higher goal differential of +5 does seem a bit unlikely.
Nepal needed to beat Palestine in matchday 3, and needed to beat them by a large number of goals.  While Nepal definitely played better than they did against Bangladesh, neither of those outcomes happened as the match ended in a 0-0 draw.  Palestine had nothing to play for as first place was locked up regardless of result.  This brings us to our final lesson of first Challenge Cup qualifiers: No matter the odds, do not bet on a team that has zero incentive to win!  Time and time again, we've seen teams that are heavy favorites play down to their opponent's level when the outcome does not matter!
Second Place Table 
Bangladesh               6          +5
India                            6          +4
Laos                            5          +2
Group B Preview
Kyrgyzstan (201), Tajikistan (160), Pakistan (168), Macau (205)
When you look at the just the rankings, you'd think this group would be fairly straightforward.  You'd expect Kyrgyzstan and Macau to be overmatched with Tajikistan and Pakistan battling for the group in their opening day encounter.  Let's take a closer look at what makes up these rankings before getting into predictions.
Hosts Kyrgyzstan have the lowest We Global ranking of any of the 5 Challenge Cup qualifying hosts.  Ranked at 201, you'd suspect them to be pretty terrible.  However, when we look closer, Kyrgyzstan has played only 1 match in the last 18 months.  Just like in the FIFA rankings, this poses a conundrum.  You can't gain ranking points if you don't play games.  For instance, we have Andorra ranked 10 spots higher than Kyrgyzstan even though they have a far worse record.  Andorra has played 9 more games against much stiffer competition, thus giving them a better opportunity to climb the rankings.
Macau also has more games than Kyrgyzstan.  They've played 6 more matches over the 18 months, albeit against lowly competition.  Macau have lost all but one of those matches, so this justifies a lower ranking.
The point we're trying to make here is that Kyrgyzstan are a complete unknown and potentially dangerous team in this group.  It is very difficult to project what will happen in the future when you hardly have any historical data to base it upon.
All that said, We Global still expects either Tajikistan or Pakistan to advance from this group.  It is going to depend on who can claim more points and/or more goals from their matches with Kyrgyzstan.  We Global is projecting a draw between these two teams in matchday 1 to setup two vitally important matches in the days to follow.
Macau will be similar to bottom feeders Northern Mariana Islands, Chinese Taipei, and Mongolia.  While a draw somewhere along the line would be great, we think they are there only to affect the goal differential category.
Check back here on Sunday for a full Group B recap and further projections!  Be sure to check out everything else We Global Football has to offer on the website. Follow us on Twitter @We_Global and on Facebook!
AFC Correspondent
-Matt