2014 AFC Challenge Cup Group B – Matchday 2 Review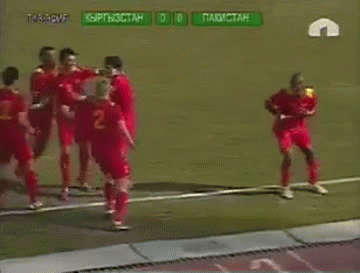 | | | |
| --- | --- | --- |
| Team | Points | GD |
| Tajikistan | 6 | +4 |
| Kyrgyzstan | 6 | +2 |
| Pakistan | 0 | -2 |
| Macau | 0 | -4 |
Another matchday is in the books for AFC Challenge Cup qualifying. We Global nailed
the results in these fixtures, but somehow always seem to lack the confidence to wager.
First, Tajikistan saw off Macau 3-0 in a match that was surprisingly scoreless until
the 56th minute. We told you that Tajikistan would win comfortably by 2 or more in
our preview, and they delivered. Two goals in the last 10 minutes not only sealed our
prediction, but also gave Tajikistan a crucial 2 goal cushion in goal differential over hosts
Kyrgyzstan.
In the second match, Pakistan and Kyrgyzstan both had it all to play for. A loss by either
side would be extremely detrimental to their qualification hopes. Pakistan would be
eliminated and Kyrgyzstan would need some assistance. We knew this would be a tight
encounter, projecting Kyrgyzstan to win by .78 goals with home field advantage being
the difference. We were spot on. Kyrgyzstan made a first minute goal from Tetteh stand
up and defeated Pakistan 1-0.
Group B is now deadlocked with two squads on 6 points and now has a championship
game setup on matchday 3.
Upcoming Fixtures:
Kyrgyzstan v Tajikistan
Pakistan v Macau
If this match were played in South America, we could say this is for the whole enchilada.
But since it's played in Central Asia, we'll have to come up with something new. How
does for the whole bowl of plov sound? Delicious? Let's go with that. This one is for the
whole bowl of plov. The winner of Kyrgyzstan v Tajikistan will progress to Maldives
2014 with the loser being eliminated. Neither team has the goal differential needed to
pass Bangladesh or India in the second place table with a loss. However, a draw will see
Tajikistan through as group winners on goal differential, see Kyrgyzstan to the finals as they could finish no worse than 2nd in the 2nd place standings, and will eliminate India. There is still very much left to play for in this group. We Global predicts a draw will occur, sending both teams through to the finals.
In the other match, the only thing left to play for is pride. A pair of gut-wrenching 1-
0 defeats knocked Pakistan out much earlier than they would have hoped. Not getting
Macau until the 3rd match left them with little room for error, and unfortunately they
couldn't get the job done. We Global predicts that Pakistan will win by 1 or 2 goals and
leave with something they can feel good about. Macau on the other hand, will leave with the amount of points with which they started.
Hope you enjoyed our continuous coverage of the AFC Challenge Cup. Keep checking
back as the 5th and final group gets underway in Manila on Friday.
AFC Correspondent
-Matt